Spotlight on Europe - Edition 3
As news of Australia's re-opening plans are gaining momentum, what has been the response in the European market?
In the last four weeks, we have been fortunate to meet with our key industry partners in Paris, Milan, Frankfurt, Munich and Zurich. This has given us the opportunity to see and hear first-hand how our in-market distribution partners are and how they feel about the future of tourism to Australia and other places.
There has been a lot of excitement about the increasingly positive news about the approach to Australia's border opening and the more realistic hope that we can send European visitors to Australia again in the not-too-distant future. Our partners miss Australia and so do their customers.
Most of our partners had to scale back on personnel and work hours during the crisis, and they are now beginning to rebuild their teams and ensuring they have bookable product in their systems. This is where they rely a lot on what is happening in Australia, the reactivity, the speed with which they receive answers, rates, booking conditions etc.
Some of our partners have actively begun marketing and stepped up their customer dialogue which is heartening to see. Most of our partners are hoping that they themselves or key personnel can visit Australia again soon so that they can experience first-hand what today's Australia is like. It has been generally a minimum of two years since their last visit and they are keen to see how the travel process including transit through airports works. They wish to be fully informed and confident about it all when they talk to their customers.
The overarching feeling is one of excitement, careful optimism mixed with the urgent need to get paying customers on the journey to Australia. And yes, they and many of us working in the promotional side of Australian tourism, have had our phones ring from an excited customer or friend who is ready to get on a plane to Australia.
Can you share insights into your plans to support recovery from the European market?
Currently, other than continuing to keep the Australia dream alive via content and storytelling, our main role is to inform our trade partners about the current situation in Australia and any travel protocol changes in as timely and concise a manner that we can. This is a regular request from our trade contacts. While borders continue to be closed, we are training travel agents through live in market events and work with our journalist partners via storytelling. With face to face events currently possible we have felt the hunger and eagerness of our audience to reconnect.
Once border opening dates are confirmed, we will begin cooperative partnership campaigns to bring tactical offers and entice customer bookings. These will be with both with our key airline partners and distribution partners.
How are the European travel trade faring?
The most important insight is that we are all in the same boat and will ideally all treat each other with kindness and that feeling of taking the next steps as one big team. The tourism trade over here in Europe and our friends in Australia have gone through similar amounts of pain and now have one common goal: restarting tourism from Continental Europe to Australia.
Our trade partners in Europe have gone through tough times, many hours have been spent updating the same bookings over and over again, initially hoping for postponement and quite often ending in cancellations and reimbursements to the customers.
There has been a period of very few options in terms of sales, but fortunately (from a commercial point of view) over the last few weeks and months, more and more destinations have come online and are open again, which is helping our trade partners. All our markets in Continental Europe – Germany, France, Italy, Switzerland and Austria – had differing forms of government support and I am extremely happy to report that the large majority of our existing trade partners have been able to survive the crisis and are keen and ready to start business with Australia again.
To begin with they have been able to sell trips to European destinations and some of the other long-haul places such as the Indian Ocean destinations, parts of Africa in particular Namibia and South Africa and for the last month or so to North America.
There is a sense of optimism and some of the changes that our partners have implemented in their own set-ups, be it digitally or via new technology. It is evident many of our partners have used their time well and have been very brave – they have embraced the challenge thrown at them and that makes me very happy.
Are you seeing evidence of any emerging consumer travel trends that are relevant for travel to Australia?
The first thing we hear everywhere, and this is less a new travel trend than a result of the past months, is that our customers are extremely keen for up-to-date information, easy to understand and to follow travel protocol, reliability in border openings and very flexible booking conditions. This is a result of having had to review and change travel plans numerous times over the past year.
European travellers have now been travelling for a while under COVID-19 restrictions and have become a lot more comfortable and confident with what today's travel world means for them.
Other trends are that people are seeking is to really get under the skin of a destination even more, explore at their own pace and continuously often with their own means of transport, in a self-drive manner and generally have a more immersive experience of the destination when they visit. They wish to travel better and understand and connect more with local communities and the land they spend their time on and where their money goes to.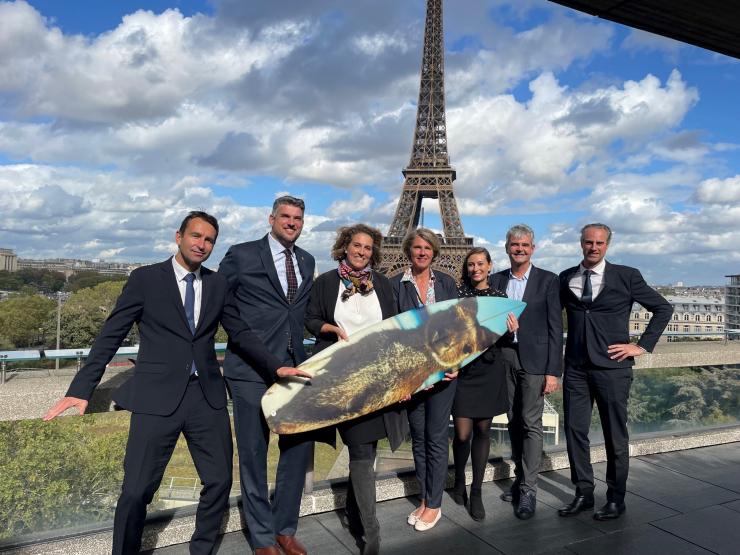 For more information:
Please feel free to contact the team directly to share your thoughts and ideas. 


And personally, what is on your wish list of experiences when you finally get the chance to return to Australia?
In my very long time working for and with Australia, never before have I had such a long time between visits. So, initially, I am keen to reconnect in person with my friends in Australia, be it personal and very importantly also my colleagues and industry friends. I miss them and am keen to see for myself how everyone is. And quite selfishly, having an Aussie brunch or sunset drinks somewhere with people that are important to me is very much on the agenda.
From an experience point of view, I am very keen to learn more from our Discover Aboriginal Experiences partners and in particular in some of the more remote areas of the country. I would also love to experience some of the hiking experiences like the Maria Island Walk and the Three Capes Walk in Tassie, but also traveling along Australia's Coral Coast and all the way into the Kimberley again as it has been quite a while since I have been. In a nutshell – I'd be pretty happy to just be anywhere in Australia to reconnect with the land and the people.