A long-standing member of the Tourism Australia team, Carmen Tam, is currently the Manager for Hong Kong with over 20 years' experience promoting Australia. Prior to her role as Manager, Carmen was a Business Development Manager for Tourism Australia's North Asia team. Carmen has a strong hotel background and was previously the Director of Sales for the Sheraton Hotel.

HOW IS LIFE IN Hong Kong AT THE MOMENT?
Right now, Hong Kong is in the rising optimism stage. Around 1.3 million doses of the COVID-19 vaccine have been administered to the public, with about 860,000 people (approximately 11.5 per cent of the population) receiving their first dose and about 442,300 people (approximately 5.9 per cent) getting their second dose. The virus continues to be contained with "zero" new cases and the Hong Kong economy expected to grow by 3.5 per cent to 5.5 per cent in real terms in 2021, supporting business and protecting jobs. Easter spending neared pre-COVID levels, with hotel occupancy hitting 90 per cent and city theme parks and restaurants all reporting a surge over the five-day holiday.
Based on the Annual WIN World Survey (WWS – 2020), Hong Kong is one of the regions with a much stronger desire to travel. We are ranked 4th with 46 per cent of indicating a likelihood to travel internationally in 2021.
Quarantine-free travel between Hong Kong and Singapore will begin on 26 May 2021, for travellers irrespective of nationality who have remained in either city for 14 consecutive days before their date of departure. The 14 days will exclude any compulsory quarantine period. The bubble starts with one flight a day return carrying up to 200 travellers per flight. From 10 June, this will be increased to two flights per day with up to 200 passengers on each flight.
The Hong Kong Government is upscaling its "Return2hk Scheme" which will gradually loosen the travel restrictions between Hong Kong and Guangdong Province and Macau to other Chinese Mainland provinces and municipalities. Since 29 April, all Hong Kong residents living in mainland China have been eligible to return to the city without undergoing 14-days quarantine if they have tested negative for the coronavirus.
People go hiking and visiting outlying islands during leisure time. According to the Consumer Demand Project, Australia continues to be the most highly associated destination with nature and wildlife, and leads for consideration, awareness, and intention among Hong Kong travellers. When international travel resumes, a great Aussie holiday with world-class nature and wildlife is what Hong Kong travellers are looking for.
WHAT IS THE LATEST NEWS FROM OUR KEY STAKEHOLDERS IN MARKET?
With border remaining closed for a year and the Hong Kong Government applying a lockdown policy to tackle the pandemic, the past year has been challenging and difficult for most of our stakeholders. Our key stakeholders are mostly in hibernation or minimised operation mode and many have had to shift business models.
Key distribution partners like Wing On Travel, Hong Thai Travel, EGL Tours, Jetour, Jebsen Holidays and Travel Expert have shifted focus to staycation packages, online sales or transformed their branch office for merchandising. In the past they promoted tour packages, but during the pandemic, in order to maintain their branding and keep engaging with their loyalty customers, our partners have shifted to selling travel souvenir products, seasonal produce and household food consumption items. Seek assistance from National Tourist Officers referral to link up with trade department for various countries specialities.
The Hong Kong travel trade is resilient and innovative, and new products such as a "Flycation" have been strongly supported by the Hong Kong consumer with short lead times for full booking. There is even a trend for "Petcation" packages.
WHAT ARE TOURISM AUSTRALIA'S KEY AREAS OF FOCUS IN THESE CHALLENGING TIMES?
Two major tasks for the Tourism Australia team to focus on are maintaining Australian awareness in the market from a consumer perspective and being connected to the travel trade. In good or bad times, mateship creates a strong bond. Global and local content to keep consumers dreaming of Australia, trade engagement and Aussie Specialist training keeps the trade dialogue and momentum.
The Hong Kong market has launched a broad range of content campaigns covering various themes, such as conscious travel, wildlife and nature. Two more themes, gourmet and cities, will be launched in coming two months. Hong Kong is also the first international market to launch the Australia in 8D campaign via YouTube on Smart TV, which aims to deliver best audio experience to the audience. Besides working together with the global team, we strive to deliver local content to keep Hong Kong consumers dreaming and keep consideration for Australia high as the go-to destination once the border is reopened. We have partnered with Sony Hong Kong and Sony Music for a four episodes program featuring singer, Jason Chan and his wife, Leanne Fu, about their trip in Queensland, showcasing unique Australian offerings. We also invited Hong Kong well known advocate, Vince Ng, and Olympic swimmer, Stephanie Au, to reunite and share their previous travel memories from their time in Victoria and the Northern Territory. To boost travel desire, we partnered with Austrade for the launch of the Festival of Australia Food & Beverage campaign.
Since July 2020, Kay Kwan, our Aussie Specialist Trainer/Co-ordinator, has hosted 15 webinars and trained 718 travel agents. Over Chinese New Year, Tourism Australia along with eight state and territory partners, conducted the ASP CNY carnival series. This included live streaming from Australia, dessert and pearl farm workshops, a wine tasting masterclass, interactive game and more, recorded a total attendance of 483 and the response was overwhelmingly positive.
Kathy Lam, our in-house talented producer, edited two episodes of "Aussie Mate Update" to capture interviews with key stakeholders on their post COVID plans and travel trends.

IN THESE TRYING TIMES, WE COULD ALL DO WITH SOME GOOD NEWS. WHAT HAS PUT A SMILE ON YOUR FACE RECENTLY?
Our dedicated trade song "Aussie Bright Sky" launched in May 2020 and was very well received. We had many requests to sign the song again by our talent trade stakeholders. We plan to fulfil their wishes to make it happen again, so watch out for the new version.
Per the latest Consumer Demand Project results, Australia retaining it top position in consideration, experience, awareness & intention for the Hong Kong market has also been a highlight. With High Value Travellers ranking Australia as first for nature & wildlife, safety, aquatic & coastal, Australia is now also ahead of France for good food & wine. This is great news and gives confidence to our trade, that once the border is reopen, Australia will be in a very favourable position to convert interest into travel.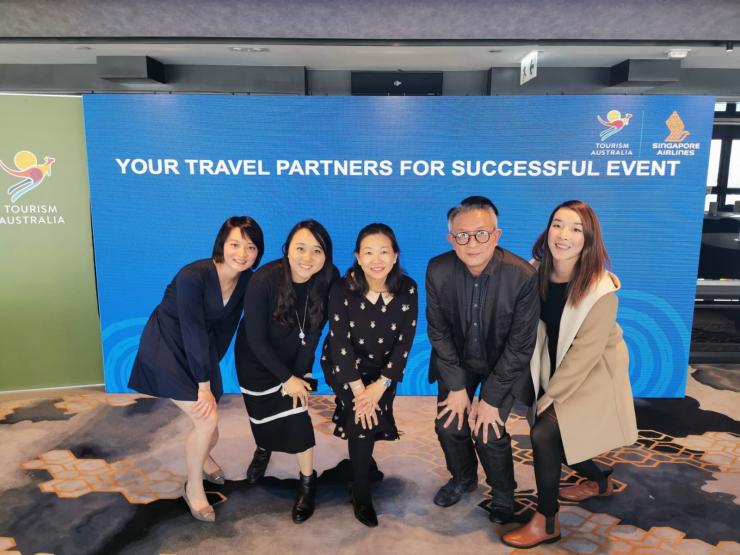 FINALLY, WHAT ADVICE DO YOU HAVE FOR AUSTRALIAN INDUSTRY WANTING TO STAY ENGAGED WITH THE Hong Kong MARKET?
Unlike most other markets, Hong Kong is a "relatively small" place, people cannot travel anywhere under lockdown. There are no other provinces or regions to travel domestically, only 18 districts or the outlying islands to visit. This creates a lot of pent-up demand and eagerness for travel once border open.
The Hong Kong market is always looking for new news and experiences, to successfully increase annual arrivals to 315,900 (an increase of two per cent) on the December 2019 year. Australia is well positioned as a mid-haul repeatable destination to capitalise on this, however consumers are looking for a level of comfort in travelling to Australia. We encourage trade partners to provide Hong Kong consumers with information on any new safety measures, new product, attractions, experiences or food.