Spotlight on India Edition 3
It has been five months since your last update. What recent changes are impacting life in India now?
With over 1.6 billion vaccine doses administered and a dipping COVID curve, most of India is back on its feet and raring to go. Schools, malls, restaurants and offices have reopened and optimism is high. The consumer confidence index (as measured by our Consumer Sentiment Tracker) is at an all-time high as is the travel and booking intent. The Indian economy is expected to grow 9.5 per cent during the Financial Year 22 and will once again earn the distinction of being the fastest growing emerging economies in the world.
The strengthening of the bilateral relationship between Australia and India as well as the announcements and research findings below have encouraged us to be confident about India's resurgence once the borders reopen:
Tourism Australia's Consumer Demand Project research shows that 1.8million (82%) of high value travellers in India intend to visit Australia, and Australia has maintained its highest ranking across all key factors that travellers consider before deciding a holiday destination
With the announcement of Qantas' direct flights to India, the non-stop services on the India/Australia route have more than doubled than pre-COVID levels
The Visa Application Charge (VAC) waiver scheme announced by the Department of Home Affairs offers a unique benefit to thousands of Indian travellers who were unable to travel due to COVID
Can you share insights into your plans to support recovery from the India market?
Pre-COVID, India was the fastest growing market for Australia and our objective is to return to that growth trajectory once travel resumes. We are confident that India will be in the league of one million visitor arrivals and among the top five inbound tourism markets for Australia, over the next decade. To set a strong foundation towards achieving this goal, we will continue to:
Maintain awareness, intention and desirability for Australia through media and public relations programs aimed at the discerning high value traveller
Continue to leverage the power of advocacy by engaging with advocates, Friends of Australia and social media influencers
Build demand and drive visitation through cooperative partnership campaigns with key distribution and airline partners and collaborate with the Department of Home Affairs to facilitate access (visa process) into Australia
Capitalise on the high-yielding business events segment and major events including the ICC T20 Men's World Cup to be hosted in Australia during October and November 2022
Engage the India travel trade with distribution initiatives such as the Aussie Specialist Program, Premier Aussie Specialist, Trade Resources Hub, Australia On-Demand 365, and events including the Business Events Australia Showcase and the Australian Tourism Exchange 2022, among others.
How is the India travel trade faring?
The travel trade in India, including our key distribution partners and Aussie Specialist agents, are gradually returning to normalcy. We have been fortunate to enjoy their unstinted support and participation in all our key programs throughout the pandemic period.
They are ramping up their business operations encouraged by the significant surge in domestic travel as well as a steady boost to the overall outbound travel industry, with India signing up an air travel bubble agreement with over 34 countries and relaxation of testing norms and entry barriers for Indian travelers in recent months. The industry remains hopeful for a 'V' shaped recovery during the upcoming Indian summer holiday season between April to June and beyond.
Are you seeing evidence of any emerging consumer travel trends that are relevant for travel to Australia?

The new-age, discerning Indian traveller is seeking out travel destinations that deliver unique and authentic experiences which tap into their passion points. To help fulfil this need, we will showcase and promote the Signature Experiences of Australia collective that packages Australia's outstanding tourism experiences within a variety of niche areas and special interest categories.
There's also a growing appetite and an increased preference for conscious and responsible travel and engaging with the locals. To cater to this emerging trend, we will be shining a spotlight on two of Australian tourism industry's key competitive strengths – Sustainability and Indigenous experiences.
Travel experience expectations in a post-COVID world are also likely to change, with an inclination to travel beyond the cities, where private experiences ensure natural social distancing too. We are therefore confident that Australian self-drive holidays will be a big draw for travellers who can explore a wide range of experiences within the country at their own pace and we will look at promoting some of Australia's iconic driving routes.
Lastly, the ICC T20 Men's World Cup that will be hosted in Australia in October and November 2022 will provide a wonderful opportunity for cricket enthusiasts to combine the experience of watching their favorite sport in world class stadiums and matching it with a world class holiday.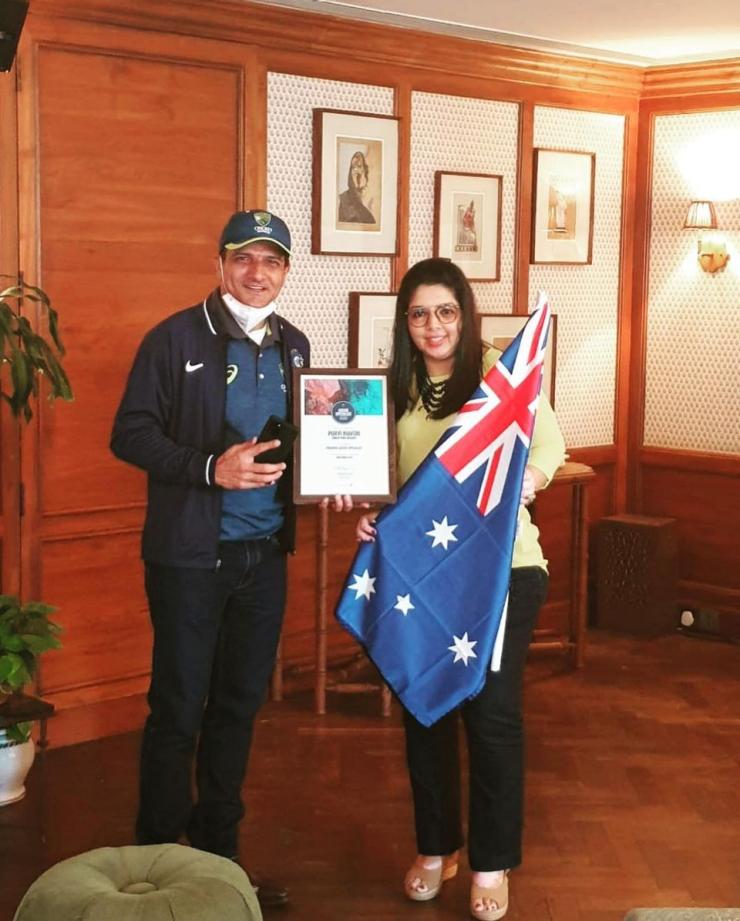 And personally, what is on your wish list of experiences when you finally get the chance to return to Australia?

I truly value and cherish the friendships that I have made over the past decade with my mates from the land Down Under. Whilst the tourism experiences that they represent are spectacular by themselves, what I'm looking forward to is the opportunity to meet them in person, after almost two years.
So, on my next trip, I'd enjoy a drive with Damien along the Great Ocean Road and play a game of backyard cricket with my Victorian mates Garry, Nigel, Brendan and James. Discuss business opportunities with Warrier and share a glass of bubbles with Nikki. Spend time chatting with the lovely Wickham family on Kangaroo Island and indulge in my favourite Max Brenner hot chocolate with Shannon. The list of friends, like the experiences, are endless.