HOW IS LIFE IN Indonesia AT THE MOMENT?
Indonesia is still currently on partial lockdown in 30 provinces. The Indonesian Health Ministry implements Public Activity Restrictions (PPKM) to improve its tracking and tracing of COVID-19 cases. The Health Ministry still allows for essential sectors to fully operate, albeit under strict health protocols. Non-essential industries like shopping malls, restaurants and tourist attractions are allowed to open for limited hours and customers at 50% of the total venue capacity. Offices are required to limit the number of people working to 25% of the maximum capacity and schools continue with online learning.
Despite the number of COVID-19 cases still rising, there is a significant decrease in the number of new daily cases since January 2021 as containment measures and public awareness campaigns encourage the population to remain vigilant.
Approximately 15 million Indonesians have received at least the first dose of a vaccine as the vaccination program gains momentum in the country. The Indonesian government aims to inoculate 70% of population by March 2022.
WHAT IS THE LATEST NEWS FROM OUR KEY STAKEHOLDERS IN MARKET?
Our partner travel agents have shifted their focus to domestic travel packages and international destinations that still allow Indonesian travellers. These are countries such as the USA, UAE, Turkey and Morocco.
Turkey has become one of the top choices for Indonesians to travel to internationally as the country offers very attractive tour packages.
Consumers have shown high interest in virtual tours and our Key Distribution Partners (KDP's) have been working with their suppliers to showcase product experiences directly to registered consumers. These individuals are part of a core group of customers who will be targeted when borders reopen.
Domestic travel has seen an increase since August 2020 when internal restrictions were eased. Online Travel Agents (OTA's) have reported strong demand as consumers' level of comfort with booking domestic travel increases, along with the familiarity with booking travel experiences online. Indonesian OTAs have seen an increase of 331% for airline ticket sales and 331% for hotel bookings in the first quarter of 2021. This also represents an increase in bookings from the time immediately prior to travel restrictions being enforced in Indonesia. We at Tourism Australia are watching this major change in the market distribution network very closely.

WHAT ARE TOURISM AUSTRALIA'S KEY AREAS OF FOCUS IN THESE CHALLENGING TIMES?

Our core focus has been building on the high demand for Australia with partners capable of converting at higher levels once travel restrictions are removed. The long-term opportunity offered by the Indonesian market remains high with Indonesia now officially an upper-middle income country. The middle-class has grown from 7% to 20% of the population (52 million people are now classified as middle-class) over the last 15 years according to World Bank data – a significant opportunity for a market in such close proximity to Australia.
Tourism Australia has continually engaged directly with Indonesian consumers throughout the pandemic through our online interactive campaigns are 'With Love from Aus', 'Live from Aus', 360-degree videos and 8D videos. We have also worked with KDP's on a number of direct-to-consumer programs as well as improving their product knowledge and selling capabilities through the Aussie Specialist Program.
Our research as part of the Consumer Demand Project has shown Australia has significantly closed the gap with Japan as most considered and intended destination in the market, pulling away from other competitors such as South Korea. Most importantly, latent demand measures show that 34% of Indonesians who never intended to visit Australia are considering Australia for their next holiday destination after seeing marketing from Tourism Australia and partners.
Ongoing partnerships and launch campaigns are in place with KDP and airlines and these are also being extended to OTA's and financial institutions in preparation for the need to mobilise quickly once borders reopen.
IN THESE TRYING TIMES, WE COULD ALL DO WITH SOME GOOD NEWS. WHAT HAS PUT A SMILE ON YOUR FACE RECENTLY?
The continuous engagement with our Aussie Specialist agents has been the highlight during the pandemic. Limitations on face-to-face engagement have inspired us to innovate and come up with new ideas such as "Hopping Roo Virtual Tours", "Aussie You Soon!", and of course our latest activity "Aussie Specialist Playtime". These fun and educational webinars have brought joy not only to our ASP agents but also to us, the team.
The most gratifying feeling is when we hear positive feedback from our agents. For a lot of them, ASP webinars have become an integral part of their new normal. For example, agents from a company in Surabaya made Wednesdays their Aussie Specialist Day where they would wear ASP uniform while participating in the webinars. Some have also expressed how our webinars have become an escape for them to relieve some stress through fun games we play at Aussie Specialist Playtime every week. More importantly, these webinars give agents the opportunity to learn and hone their sales skills while keeping Australian destinations on the top of their minds.
Even though the vaccine rollout has been slow, there is still a positive sense of hope for us to be able to travel, especially to visit Australia again!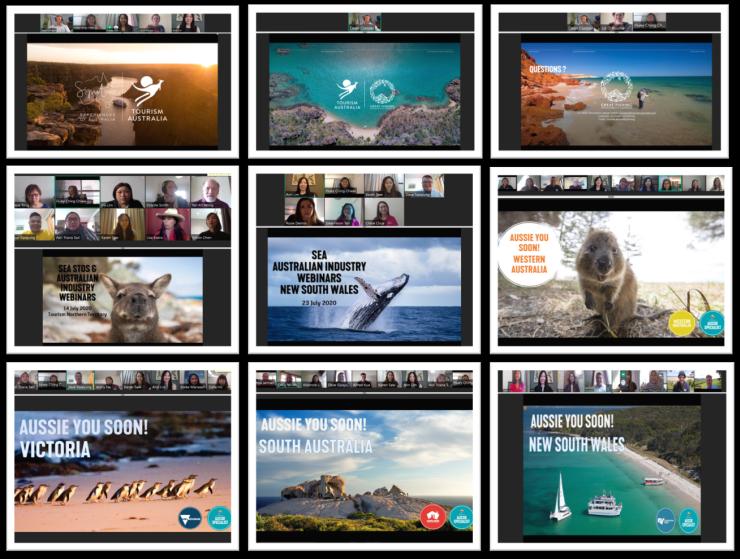 Please feel free to reach the Indonesian team if you have any inquires or if you have any developments update in your business.
FINALLY, WHAT ADVICE DO YOU HAVE FOR THE AUSTRALIAN INDUSTRY WANTING TO STAY ENGAGED WITH THE Indonesian MARKET?
Indonesian consumers are slowly shifting from group travel to the FIT and they are becoming smarter in researching the best deals. Consumer Travel Fairs (offline and online) are massive in the market to provide the best deals possible for plane tickets, accommodation, and tourist attractions.
It is important for Australian suppliers to understand these trends continue to develop and to maintain relationships with distribution partners. Tourism Australia's approach has been to develop platforms for our Australian suppliers to get their products in front of Indonesian consumers. The platforms are virtual tours, virtual webinars, and trade events that we would encourage the Australian industry to participate in and keep engaged with Indonesian consumers and distribution partners.
On a personal note – I would like to express my appreciation and thanks to the STO and Australian industry partners for their support and collaboration for our activities in the market. Without your support, we would not be seeing the positive results in the demand for Australia that we hope to turn in to actual visitation very shortly.