HOW IS LIFE IN South Korea AT THE MOMENT?
Since the COVID-19 outbreak began, thankfully we haven't been in a complete lock-down situation and most businesses have been operating as usual. Offices, restaurants and shopping cents have been open, so our life has been less affected than other countries that have had a drastic slow-down for months. Thanks to the robust local economy in South Korea, the country's economic growth forecast has been recently revised from 2.8 per cent to 3.5 per cent for this year and the demand for domestic travel has been surging. However, the prolonged pandemic has impacted the outbound travel industry significantly, currently 70 per cent of the employees in the outbound travel industry are still in hibernation. Nevertheless, this can be an opportunity to create a healthier and more sustainable environment in the travel industry. So more solid and financially stable travel agencies will remain, and these agencies will be more interested in developing quality products for high value travellers.
The first case of COVID-19 was reported in February last year in South Korea. Since then, South Koreans have been through five seasons and now we feel a bit strange if we do not wear a mask. Although South Korea's COVID-19 situation has subsided, it is still mandatory to wear a mask at all times in public. The general population are desperate to end this 'abnormal' era. To overcome the "corona-blue" depression, I try to remain as positive as I can while exercising often and enjoy more outdoor activities including yoga, golf, Zumba dance and jogging, which I believe makes me mentally and physically healthier.
WHAT IS THE LATEST NEWS FROM OUR KEY STAKEHOLDERS IN MARKET?
The vaccine will be a game changer when it comes to resuming travel abroad and there has been some good news in regard to the country's expedition of the vaccination and the mandatory two-week quarantine exemption for those Koreans fully vaccinated. After the news was released we have seen good signs of recovery in the travel industry.
South Korea's outbound travel market has grown fast for the last few decades, achieving double-digit growth almost every year and recording one of the highest ratios per capita in terms of travelling abroad. In 2019 the number of outbound travellers reached nearly 29 million out of 50 million population. South Korean travellers are avid and resilient travellers. Following previous major world disasters such as 911, the global financial crisis and SARS, travel demand in South Korea rebounded very quickly.
In March 2021, Key Distribution Partners (KDPs) kicked off a pre-sale or early bird campaign, 'Book a Hope' through TV home-shopping channels, receiving 10,000 enquiries from viewers during its one-hour airing time, showing the pent-up demand South Koreans have for international travel. The South Korean travel industry also anticipates that the most important criteria selecting a travel will be safety and security in the post-COVID era. Many consumer surveys and research have also revealed that South Korean consumers prefer open air, beautiful nature, less densely populated destinations as opposed to the congested and crowded regions. To reflect those consumers' newly changed needs, travel agencies and tour operators have become more interested in the products of outdoor activities, camping, hiking, road trips, golfing, etc., all of which are a good fit with Australia. Airline partners have also mentioned that travel demand for Australia will recover quickly once the borders open, so they are keen to resume flight operation.
WHAT ARE TOURISM AUSTRALIA'S KEY AREAS OF FOCUS IN THESE CHALLENGING TIMES?
At this stage there are no clear messages as to when the borders will open, so the team is focusing on creating and building demand while increasing visibility and awareness of Australia to position our destination as a perfect post-COVID holiday.
Aussie Specialist Program is the area which we have been very proactive. Although most employees in the travel industry have been on leave for many months, we have been engaging with our partners, providing latest information increase loyalty and product knowledge. Since the borders closed the South Korea team have hosted 30 live webinars. On average 175 travel agencies attended each webinar.
For many of the webinars industry partners and sellers have been encouraged to get involved as much as possible. With industry partners joining the webinars as guest speakers to introduce their products, making the seminars fun and interactive.
On the partnerships front, we are ready to take off with "Dream-fly to Australia" campaign with one of our airline partners from 15 May. The airline will offer three flights dedicated to Australia to decorate the airport check-in and inflight area with Australia themes so the passengers can have a unique experience. In addition, we fully utilise the airlines' online media channels including their website and social media to feature our travel content to reach out to millions of their customers.
Another exciting programme we are working on is an Australia pre-sale and early booking campaign with one of the KDPs to showcase tour products for High Value Travelers through a home-shopping TV channel. We expect extensive media coverage as well as a substantial number of bookings to be generated. More importantly, we believe it is important to maintain and strengthen a firm relationship with every partner of airlines, KDPs, STOs and other stakeholders.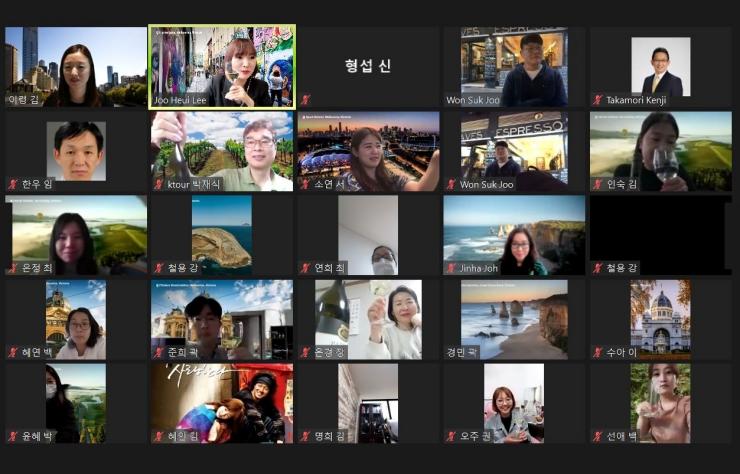 Though we are a small team, we maintain strong relationships with our South Korean trade partners and keen to be the bridge to connect all of our industry partners throughout Australia with them, so feel free to reach out to us so we can extend our support to grow the market together.
FINALLY, WHAT ADVICE DO YOU HAVE FOR THE AUSTRALIAN INDUSTRY WANTING TO STAY ENGAGED WITH THE SOUTH KOREAN MARKET?
Tourism Australia is supporting ATEC to deliver the Korea Host Program for our industry partners in Australia. The program will run from 11 May for three weeks and will give industry a better understanding of the South Korean market, so they are ready to welcome South Korean visitors once the borders open. The Australian Tourism Exchange (ATE21) will be held in June and will be a very important networking opportunity for buyers who are keen to hear about new tourism products in a post COVID world. Over 40 Korean buyers are attending both ATE LIVE in Sydney and ATE Online.
South Korea's travel market is rapidly shifting to the FIT (free and independent travel) market and the pandemic is expediting this trend, so more and more South Koreans will purchase a-la-carte travel products such as flight, accommodation, attractions, and tours separately. It is critical that our industry partners realise this trend and work with South Korean buyers more closely to increase the visibility and conversions of Australia tour products. We have also seen demand increasing from small-sized group travel for high value travellers who are looking for special themes and experiences such as golf, wellness, glamping, hiking, etc. Those customers will depend on specialized travel agencies and tour operators for bespoke tailored itineraries. So, we will continue to nurture those agencies together with STOs, RTOs and industry partners to prepare multi-day ready-made itineraries tailored to those segments in advance.