Spotlight on the UK – Edition 4
In your last update, you shared insights into Tourism Australia's plans to support recovery from the UK market. Can you please update us on how this is tracking?
Now that Australia's international borders have re-opened, our focus in the UK market is to expedite inbound tourism recovery by immediately capturing the pent-up demand and driving short-term conversion through partnership marketing.
In late January we launched the 'Work and play the Aussie way' campaign targeting working holiday makers via PR, social and digital channels and in partnership with Trailfinders, Gap360, Student Universe, BUNAC and USIT (in Ireland). The reach and engagement with this campaign has exceeded our expectations. Booking activity is steady with a lift expected at the end of the university year, around May.
Just a week following the Federal Government's border re-opening announcement we launched our 'Don't Go Small, Go Australia' campaign to quickly announce that Australia's borders are open and raise awareness of the diverse destinations and experiences in Australia. This campaign started with the high impact placement at London's iconic Piccadilly Circus, followed by a fully integrated campaign featuring PR, outdoor, social, digital, print and television. Our distribution partners in the campaign; Trailfinders, Audley Travel, Flight Centre, Travelbag, Freedom Destinations, Titan Travel and Premier Holidays, have all reported an immediate surge in enquiries and bookings. This indicates there is strong pent-up demand.
This week we are extending our campaign in partnership with Singapore Airlines to further inspire conversion with a great deal to visit Australia. Further extensions will follow featuring Tourism Western Australia and Visit Victoria.

How did the UK trade and media respond to the announcement of Australia's borders re-opening in February?
The media coverage of Australia's borders re-opening was extensive. Of course, our PR team mobilised as quickly as they could, and their efforts paid off. We manage to earn 68 online, 28 print and four broadcast articles. The media sentiment was all very positive.
Fortunately, the announcement was made just in time to capture the end of the traditional peak booking period. We have some great trade partners in the UK who jumped on it quickly. Some had distributed an electronic direct mail (EDM) to their database by the end of the same day. Several started advertising Australia deals from the following weekend and as mentioned, twelve have partnered with Tourism Australia in our campaigns.
We have 19 UK buyers registered to attend the Australian Tourism Exchange (ATE) Live in Sydney in May, and a further 15 registered to join ATE Online. This is more than we expected. Our UK buyers are very excited to reconnect with their industry contacts in Australia and make plans for the year ahead.
How is consumer sentiment towards travel? Are there any booking trends emerging, relevant to Australia?
Despite the further headwinds we now face, because of the rising cost of living and the war in Ukraine, there remains a sense of optimism amongst our trade partners. UK travellers have a reputation for resilience. This market has bounced back from previous disruptive events relatively quickly and there is an expectation it can do the same.
We consistently monitor online search and forward bookings from the UK for Australia, and both are currently sitting close to pre-COVID levels, when compared to the same weeks in 2019. Almost half of bookings being made are travelling within the next three months and are likely to be travellers visiting friends and relatives. The longer lead, high-yield leisure bookings are travelling later in the year. The good news is that the average duration and spend for new bookings appear to be higher than pre-COVID levels which bodes well for a strong recovery from the UK market.
Border restrictions as a result of COVID and the heightened requirement for package protection has played into the need for consumers to book fully-protected package holidays. As a result, key distribution partners are reporting above average enquiry levels.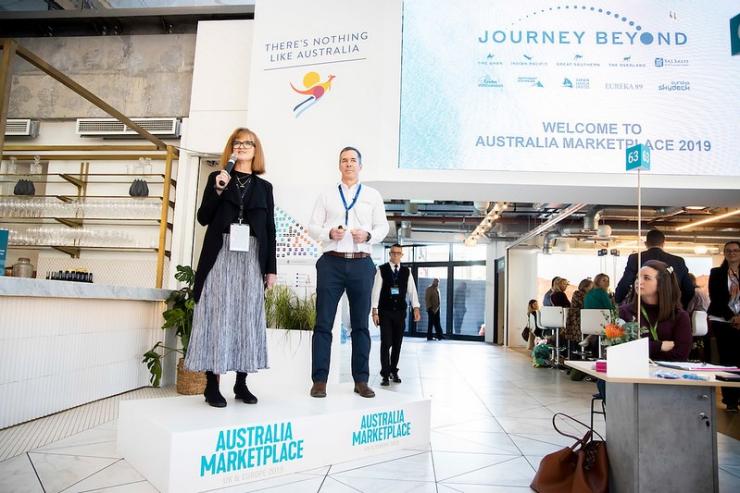 What in-market events are you planning this year?
We are supporting trade partners with training and events. The Aussie Specialist team have commenced a recruitment drive to sign up agents to the newly re-launched Aussie Specialist online training program. With new modules and an enhanced user experience the Aussie Specialist Program platform is working well and really showcasing the value of Australia as a high yield, long-haul destination for agents to promote.
In partnership with the State Tourism Organisations, our 'Aus on Tour' roadshow is currently travelling around the UK hosting events in regional locations. This week we're taking over TTG's online event platform and hosting TTG Aussie Fest, a week-long series of workshops, webinars, and panel discussions.
Later this year we are planning Australia Marketplace in London, which will follow the same format as previous years with face-to-face meetings between Australian sellers and UK and European buyers. More details will follow in due course.