Spotlight on the United Kingdom with Regional General Manager
Sally Cope

How is life in the United Kingdom at the moment?
Like many nations around the world, the United Kingdom (UK) economy has been hit hard by the COVID-19 pandemic. Apart from a few optimistic months over summer, we have lived with varying levels of COVID-19 restrictions since mid-March last year and are currently staying at home with a nationwide hard lockdown. On 22 February, the Prime Minister announced a four-stage plan for gradually lifting lockdown by 21 June. This is aligned to the Government's planned vaccination rollout, which aims to have offered the entire adult population a COVID-19 vaccine by the end of July.
An interesting outcome of this disrupted year is that the household sector has built up substantial savings. There is only so much disposable income that can be spent online. The household saving ratio has increased from around 7 per cent to 27 per cent of income, and these savings are liquid. People have money in the bank. Added to this, unemployment levels (currently at 5 per cent) have been contained by the government's furlough scheme which, so far has been extended through to the end of September.
We know that UK consumers spend a high proportion of their income on social activities, and these are the industries that are most impacted – hospitality, leisure, and travel. The rapid rollout of the vaccine is expected to stimulate consumer confidence once again and when restrictions are lifted overall spending is likely to return strongly. Recently, the Bank of England's chief economist Andy Haldane said that UK consumers had amassed some £250 billion during the pandemic and the economy could bounce back like a "coiled spring" once restrictions are eased. Until then, it is a waiting game.

What is the latest news from our key stakeholders in market?
Our trade partners were buoyed in the New Year as the vaccine rollout gained momentum and they saw a bounce in enquiries as consumer confidence lifted. When the lockdown exit plan was announced on 22 February, operators once again reported an immediate bounce in enquiries for summer holidays. Most agree that the pent-up demand for travel is building. People are ready to spend on unforgettable holidays and planning well in advance for travel next year.
Operators are keen to lock in booking enquiries for travel in 2022 and are seeking confirmed rates and inventory from Australian suppliers where possible, but are seeking flexible booking terms. Airlines are reporting a similar trend of new booking enquiries outside the available GDS date range. In a recent interview with The Times, Trailfinders' Mike Gooley openly encouraged consumers... "getting your booking in now is important. We're booking customers for the end of 2022 and it's priced as it is now." Securing these long lead enquiries for 2022 supports business confidence and helps to illustrate to airlines that the pentup demand is real, but it is only possible if consumers do not face penalties.
Sadly, a couple of key brands have disappeared in the last year – namely STA and Austravel, but for the most part our key distribution partners have shown extraordinary resilience. Many have made the tough decisions required to stay in business this year, implementing staff cuts and scaling back on retail spaces. Some have continued to advertise throughout the year, and most of remained engaged with us, attending Aussie Specialist Program training sessions and our online trade events. We expect to see an emergence of the home worker as a staple component of the UK tourism sales force when the industry rebuilds.
What are Tourism Australia's key areas of focus in these challenging times?
Our approach throughout this crisis has been two-fold, with the same objective in mind for our partners and consumers. We are determined to protect Australia's tourism brand in the UK while travel restrictions remain in place. To do this we have remained engaged with our key stakeholders (distribution partners, airlines, and Australian industry) and maintained a consistent media presence through always-on content marketing so UK consumers can keep dreaming about their next trip to Australia.
The Distribution and Partnerships team have effectively adapted to online communications in various forms. Since July last year they have hosted 24 webinars, trained over 2,200 travel agents, attended 10 trade shows, and successfully facilitated the Australia Marketplace Online with 506 delegates, joining 8,500 meetings over three days. Now they are turning their attention to recruiting new agents for the ASP program which is being revamped and preparing for ATE21 online in June.
The Marketing and PR team have focussed on content marketing. Since July last year they have delivered £2.8 million (AUD$5.1million) in earned media editorial, over 11 million completed video views and driven 570,000 unique visitors to find out more at australia.com. Plus, they have implemented several content media partnerships including The Telegraph, Lonely Planet, Trip Advisor, Condé Nast Traveller and Monocle magazine. We will continue this approach at least through to the end of this financial year. The approach is working. Consumer engagement remains high, which supports our claim that UK consumers are keenly dreaming about their next big trip.


In these trying times, we could all do with some good news. What has put a smile on your face recently?

Just before Christmas we asked Melbourne-based sand artist, enigmatically known only as Edward, to create a Christmas message in the sand of an Australian beach to send to the UK at the end of that incredibly tough year. He created a 70-metre long artwork in the sand on Raafs Beach in Victoria that simply said "We will meet again. With love from Aus". The message was flanked by a picture of a koala and a Christmas tree. It looked great in the early morning light. The UK media embraced the story. We had 21 items of coverage that reached 13.1 million Brits in the days leading up to Christmas. The positive comments on social media endorsed the strong ties between both countries and reminded us that the friendship will endure, despite this long period of separation. I have no doubt, the UK market will be back.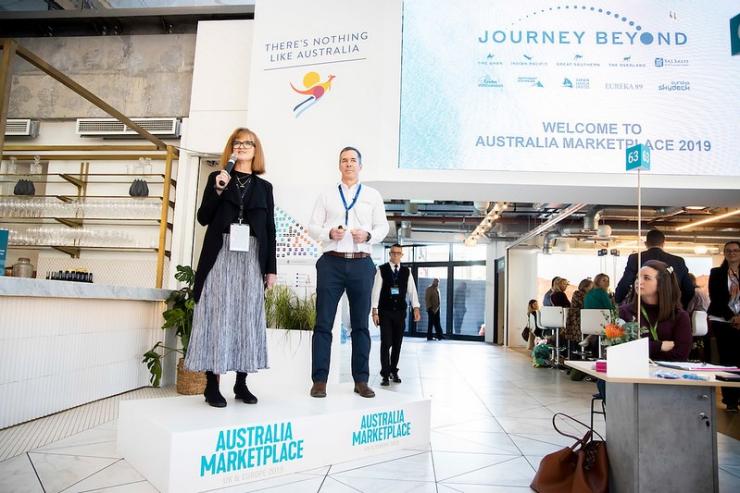 Finally, what advice do you have for Australian industry wanting to stay engaged with the UK market?
Please keep us informed with any updates from your business. Our team can incorporate your news into our trade product updates, consumer media enquiries, digital content and social channels. Compared to competitor destinations around the world, we can boost confidence in destination Australia by illustrating the resilience of our industry, the experience development underway and new products that have emerged in the last year. Your stories do not need to be backed by large investment or fan fair. They could simply be an insight into a change of season or consumer trend. Something that people in the UK would be interested to hear.