In your last update, you shared insights into your plans to support recovery from the Indonesia market. Please update us on how this is tracking.
Since mid-May, normality started to return to Indonesia. The Government has eased restrictions in Greater Jakarta with no capacity limitations in public areas such as offices, shopping malls, restaurants and tourist attractions.
Since Australia's reopening, we have seen an incredible surge of demand from Indonesia with forward bookings showing that 45 per cent are for travel in the next three months. To convert demand and support aviation recovery, the Tourism Australia Indonesia team held the 'Discover A Great Deal More' Virtual Travel Fair across the South and South East Asia region from 21 April to 15 May. The campaign, featuring 36 airlines, online travel agent, and key distribution partners and experiences, was promoted across online, print, and social media activations resulting in more than 8,000 bookings.
Airlines have resumed flights between Indonesia and Australia and are increasing capacity to key Australia gateways. The schedule indicates air capacity is currently at 61 per cent of pre-COVID levels which is a significant increase on May 2022 where capacity was at 30 per cent of pre-COVID levels.
How is consumer sentiment towards travel? Are there any booking trends emerging, relevant to Australia?
With Indonesia ceasing pre-departure COVID-19 testing requirements in May, it removed a barrier for Indonesian travellers who can return without quarantine and testing. With the announcement this week of Australia removing vaccination requirements and the completion of the Digital Passenger Declaration, it further increases the ease in which Indonesians can now travel to Australia.
The Department of Home Affairs has been receiving an influx of visa applications from Indonesia, and airlines and trade partners are reporting a surge in bookings to Australia. Our trade partners tell us that Indonesian travellers are less concerned about the price, they just want a seat on the plane so they're willing to travel in a higher class by upgrading to premium economy or business class.
In addition to leisure travel, planning for corporate incentive travel is resuming. Indonesian travel agent partners reported an increase in corporate client enquiries for 2022 - 2024. Therefore, we are proactively pitching to corporate and meetings, incentive, conference and exhibition (MICE) agents to consider Australia for their next destination.
How did the Indonesia trade and media respond to the announcement of Australia's borders re-opening in February?
Indonesian trade partners were very excited to promote Australia following the reopening announcement. We receive positive feedback from the travel industry here as Tourism Australia is the most active national tourism organisation in the market, creating demand for Australia and driving their business enquiries.
As part of Australia re-opening campaign, we launched 'Australia Yours to explore' with three major airlines and key distribution partners in Jakarta and Surabaya to create a demand and drive immediate and long-term booking.
The media response was very positive – over 100 earned articles have been generated since the reopening in February, including topics like the Yours to Explore campaign, our Virtual Travel Fair in Indonesia, new tourism experiences for Indonesian visitors to discover in Australia and Muslim-friendly options to explore. Three top-tier media attended the Australian Tourism Exchange (ATE) 2022 and published a range of stories following their familiarisation experiences in Canberra and Sydney, with a robust suite of organic social content created by the attendees as well.
Prominent publications also attended our in-market media luncheon and meet-and-greet to learn more about key destination experiences and provided positive feedback, with strong resulting earned media outcomes. Overall, the media excitement around our reopening is palpable, and coverage has been very encouraging.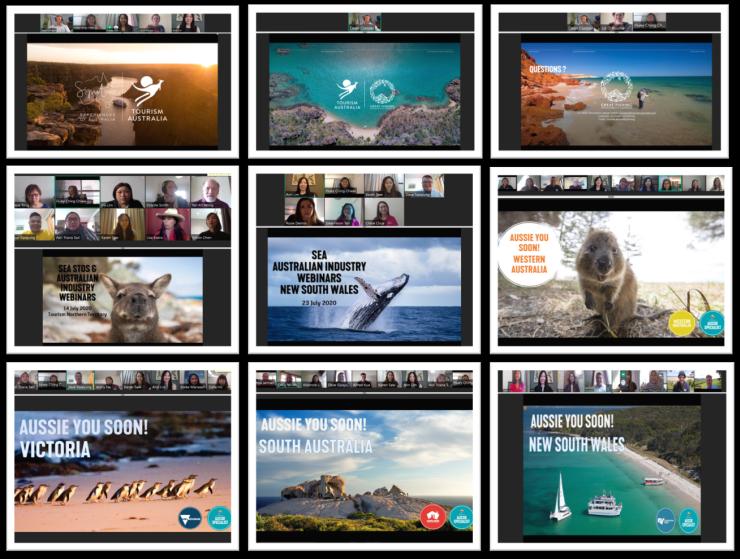 Please feel free to reach the Indonesian team if you have any inquires or if you have any developments update in your business.
What in-market events are you planning this year?
Over the next six months, our objective is to increase engagement with trade partners, Aussie Specialist agents and direct customers. To achieve this, we are planning a series of activity including:
An Aussie Specialist Program workshop in Jakarta and Surabaya targeting 100 attendees, including participation by STOs in market, highlighting new Australia product and Indigenous experiences.
A corporate educational visit in August 2022 to showcase the very best business events offering in Australia.
Affinity partnership with key trade partners to create a compelling reason to visit Australia by showcasing unique experiences for high yielding Indonesian travellers.
A trade familiarisation visit to target leisure agents in Jakarta and Surabaya with a focus on city pairing itineraries.