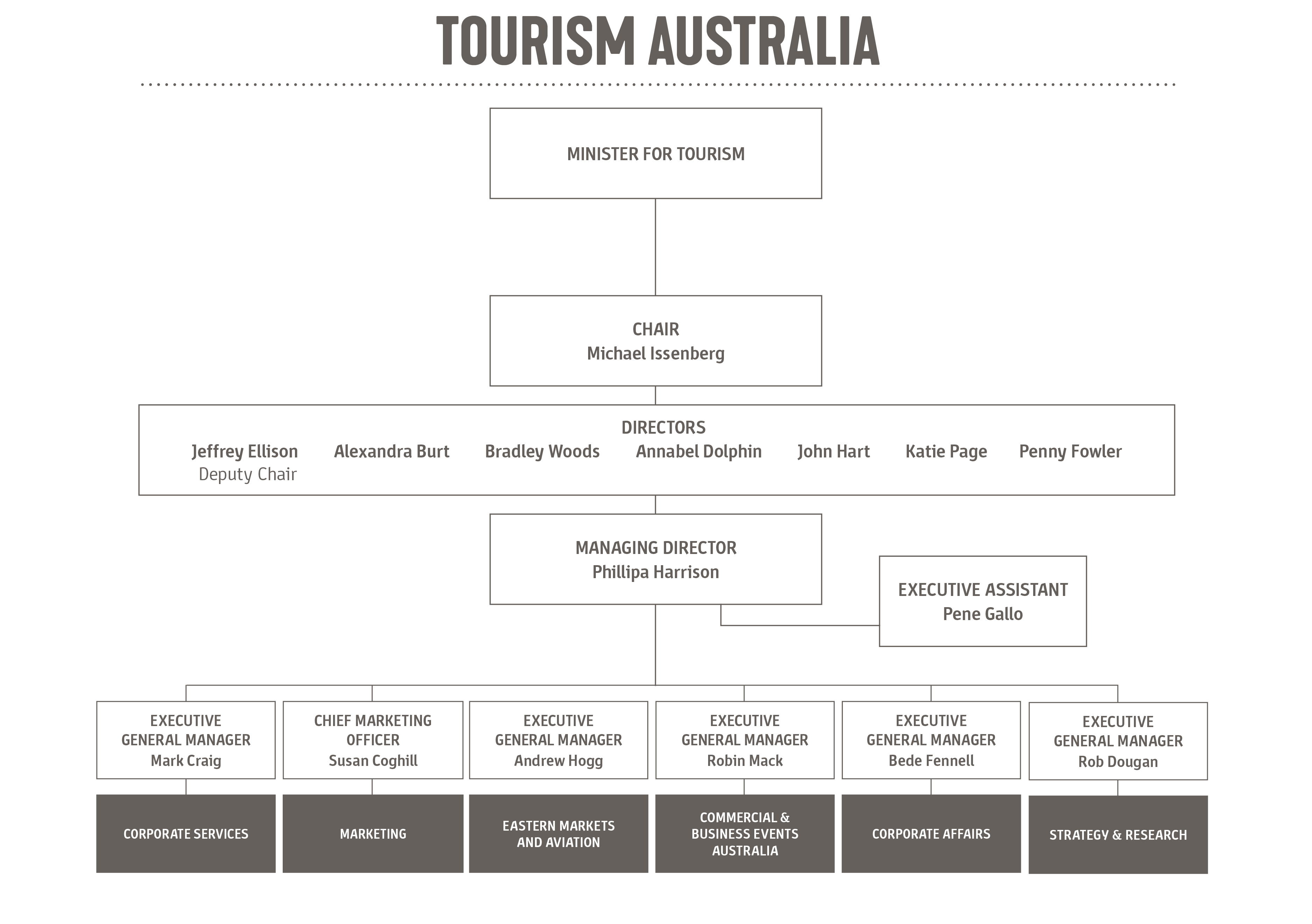 Phillipa Harrison
Managing Director
Phillipa Harrison joined Tourism Australia in February 2017 to head up the organisation's international operations for Asia, the Americas, Europe and New Zealand as well as Global Distribution and Partnerships. In this role Phillipa oversees Tourism Australia's network of international offices spanning 12 countries as well as managing airline relationships and distribution channels, working in partnership with the industry to grow the inbound market for Australian tourism. In September 2019, Phillipa was promoted to Managing Director.

Prior to her current role, Ms Harrison spent six years working for Hamilton Island Enterprises and before that held a variety of senior sales, marketing and product roles at Viator Systems (Sydney), Base Group (Sydney), STA Travel (London), Contiki Holidays (London), and Trailfinders (London).
Mark Craig
Executive General Manager Corporate Services
Corporate Services is responsible for improving corporate governance through information technology, finance, administration, human resources, legal advice and board secretariat duties.
Mark joined Tourism Australia in June 2011. Previously Mark was Chief Financial Officer at the NSW Human Services Department. He also held senior executive roles with EnergyAustralia, Scottish Water and Ernst & Young.
Bede Fennell
Executive General Manager, Corporate Affairs
The Corporate Affairs team is Tourism Australia's main liaison with government, Australian news media and the tourism industry.
Bede joined Tourism Australia in November 2019. He has over 20 years of corporate affairs, government and industry experience in Australia and internationally. He has worked in politics at a Federal and State level, and for more than half of his career has worked for large corporates across a range of industries from manufacturing, to mining services and to infrastructure.
Andrew Hogg
Executive General Manager Eastern Markets and Aviation
Andrew Hogg joined Tourism Australia in June 2015 as Regional General Manager Greater China and was promoted to North Asia Regional General Manager in November 2015. Andrew is based in Shanghai, working closely with colleagues over the North Asia Region from China, Japan and Korea.
Andrew is responsible for driving Tourism Australia's strategies to grow demand from the South East Asia, India and North Asia markets. With his strong airline background, here in Australia and overseas, Andrew will be also responsible for the restoration of international aviation capacity.
Prior to joining Tourism Australia, Andrew had a more than 26 year career with Australia's national carrier, Qantas Airways. Andrew had a number of senior roles at Qantas across finance, sales, marketing and operations. Most recently he was General Manager China for the airline, taking up this role in in 2011.
Susan Coghill
Chief Marketing Officer
Global Marketing is responsible for creating and developing Tourism Australia's brand assets for global campaigns. Global Marketing manages the roll out of Tourism Australia's marketing strategy, ensuring that Australia's tourism marketing efforts continue to cut through in the competitive international marketplace.
In her previous role as Tourism Australia's General Manager Creative, Content and Campaigns, Susan helped set the creative marketing direction for Tourism Australia, overseeing the recent Dundee, Undiscover Australia and Australia Inc. campaigns.
Robin Mack
Executive General Manager Commercial & Business Events Australia
The Commercial division includes marketing operations for Domestic and Western priority leisure markets: New Zealand, UK, USA, Germany, France, Italy and Canada, along with overseeing distribution development and partnerships globally. Business Events Australia is the specialist unit building awareness and consideration of Australia as a business events destination by delivering targeted marketing and communications, industry partnerships and a trade distribution program.
Robin has worked in the travel and tourism industry for almost 30 years, working across travel retailers, wholesalers and airlines including British Airways and Qantas before focusing on destination marketing. Robin joined Tourism Australia in 2012 and has held several roles including Head of Distribution Development and Partnerships, Acting Executive General Manager International, Executive General Manager Commercial and is now Executive General Manager Commercial & Business Events Australia.
Rob Dougan
Executive General Manager, Strategy & Research
Strategy and Research is tasked with setting the organisation's objectives, devising strategies to help achieve them, and ensuring that Tourism Australia and the tourism industry have the right data to make those decisions and understand their impacts.
Before Rob joined Tourism Australia he was the Head of Strategy at Clemenger working on a range of brands including Tourism Australia for six years. Rob penned Tourism Australia's brand vision in 2013 and led the strategy on the Restaurant Australia, Aquatic and Coastal, Undiscover, and Aussie News Today campaigns. In his 15 year career in advertising Rob has worked across a large range businesses including several travel brands such as easyJet, Helloworld, Virgin, Qantas and Tourism Tasmania.